A few weeks ago my Ergo Desktop Kangaroo Elite standing desk arrived.  I ordered several weeks before but they are either working on a bit of a backlog or are having them created when they are ordered.  When it came in I had tweeted that it arrived and at a couple of people asked what I thought about it.  Since it's now been a few weeks with it I thought I'd share in case someone else was thinking about a standing desk setup.
This post is about my thoughts on this specific standing desk.  It's not about standing desks in general or if that's healthier for you, etc.  There is a ton of research out there on standing desks, so I won't reiterate it here.  For the most part I had an interest in one for a while and even had a make shift IKEA set up at the office in my old job.  Since I know work out of the house and have get about fairly little these days I was really looking to have something that could help keep me from sitting the majority of the time.
I looked at standing desk mounts and at the Kangaroo simply because I already had a really nice wrap around desk in my home office from the last job I had where I worked from home.  I didn't want to give up that desk, so whatever I got had to add to it.  I also wanted it very easy to go from sitting to standing using the same equipment and not have to have a separate monitor, keyboard, etc.  The promise of easy transitions from sitting to standing is really what led me to buy the Kangaroo over adjustable boom like mounts.
When I ordered I selected the free shipping with minimal assembly required.  They do have an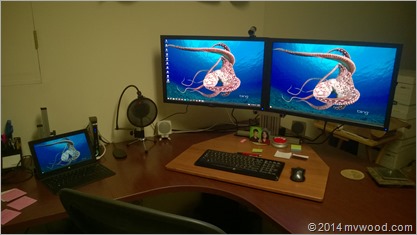 option to ship it fully assembled, but even though I'm not really all that good with hand tools I had the whole together in about half an hour.  Most of that time was unboxing and sorting through all the pieces (yeah, I'm one of those types).
Here is an image with the assembly in the seated position.  Note that keyboard platform is about an half an inch above the desktop.  Prior to ordering I had inquired as to the amount of lift on the platform and then I tried typing for a day on my keyboard after setting it on top of a half inch book, just to see if that would cause any issues. 
So, without further ado:
Pros:
The transitions are really easy.  Maybe takes a minute at most to make the change.
It is really well made.  Everything feels very solid and I'm not worried about my monitors tipping it over or anything.
Didn't take long to assemble (I chose the mostly assembled packaging)

Probably could have benefited from help when attaching the monitors just in getting them to the correct positions and then locking them down.
It came with everything you needed to put it together, including hex wrenches.  Actually, then sent a hex wrench with each mounting kit, so I got many of them. The ability to adjust the monitors tilts, etc. is really good, though for the most part once I got them in a good place I've not touched them.

The pads on the base are nice and soft and it is really easy to move the whole thing around.  A possible next stage at some point is to get a walking tread mill and then I can just pivot the whole thing on my desk to the other side when I want to talk.
They have a stopper you can slide into place so that you always lift the platform to the same height every time.  Very handy.
Cons:
Wish they would have a stoppers added for the upper monitor adjustment as well like they do for the sit/stand adjustment.  I find that the monitors are too low when I stand if left mounted at the same spot as when sitting.  I've not really adjusted them when I make a transition.  As I stand I'll probably move to better suit the standing position and then just deal with the fact that they are taller when I am sitting.
The stabilizer leg does a really good job.  I don't notice any bouncing or shaking while I'm typing, however, when my printer on the desk starts printing it does shake the monitors a bit.  I'm not talking like shake them off the table, I just notice to slightly moving.
If your keyboard is in the center it should be okay with the stabilizer leg.  If you put pressure on the sides, even with the stabilizer leg you'll get some shake.  You can try with one and order a second stabilizer if you want.  I'm thinking about, but I've not actually ordered it yet.
Tightening the up/down adjustment for the mount itself monitors is hard to reach and their instructions were odd in that it said to tilt it toward the ceiling to reach it, but that the things you are tightening….
Had to buy a anti-fatigue matt as standing on the basically concrete basement floor was rough. (Slight carpet).  Not sure the matt is helping or not…  Certainly is cushy though.
I had several cables (power, video, USB) coming off the back of the monitors.  They didn't really get in the way, but they looked bad and just kind of went everywhere when I put it into a seating position.  I got one of the cable keepers from the container store and that made it much nicer.  I now need to get longer cables so it doesn't have the two groups of cable coming off it though.  It would be interesting if they build something in the actual post on the back to help with cables.  The image above is before I bought the cable keepers.
Overall I really like it.  I'm getting used to standing more, and will certainly continue to work up to standing longer and longer periods.